The Haunting Of Potter's Field
Stories from the Past,
Unearthed from the Grave
Written by Margaret Shaw Johnson
Illustrated by Jared Tuttle
Originally written as a performance piece, The Haunting Of Potter's Field was produced in Winona in 2012 featuring local actors, dancers, musicians and original music composed for the work. It is a series of stories about 19th and early 20th century Winonans who worked hard to achieve the American Dream. But the obstacles they faced proved to be too much and they failed, dying poor, often alone and ending up buried in Potter's Field in Woodlawn Cemetery. Their stories are compelling, often sad but sometimes heartwarming and humorous.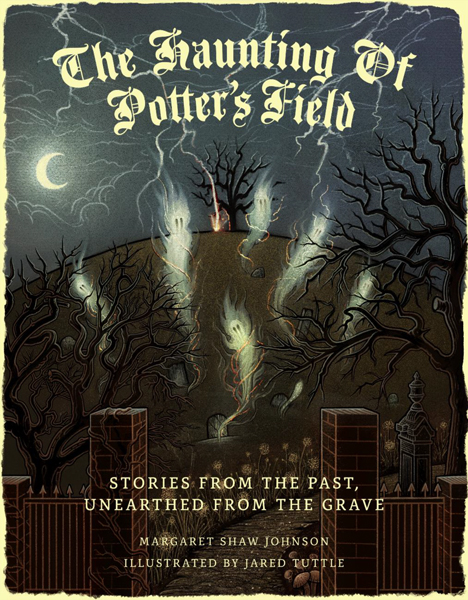 Purchase the Book
Click the Buy Now button to order your copy of The Haunting of Potter's Field.
The United States postal service estimates shipping time for Media Mail/Book rate at 2 - 8 days and shipping time for priority mail at 1 - 3 days.  However, these are estimates and times could be longer.  The seller has no control over actual shipping times.
Books Are Now IN STOCK and ready for shipment or delivery!
Synopsis
In the 30 year stretch of time between 1870 and 1900, nearly 12 million immigrants came to the United States. Some came here seeking personal freedom or relief from political and religious persecution. Others were seeking riches, as America was perceived as the land of economic opportunity.
Many prospered, but some did not. Often those who failed to realize the American Dream ended up in a potter's field, which is the name given to the place where indigent people were buried. For more than a century, many of the men and women, husbands and wives, sisters and brothers, and beloved children buried in potter's fields have remained unknown.
The Haunting of Potter's Field tells the stories of a handful of brave, heroic people who were buried in Woodlawn Cemetery's potter's field in Winona, Minnesota. The stories are diverse and wide-ranging, including one about a family that finds hope and solace after losing everything that matters during the depression, and another about Chinese laundrymen who struggle with how to honor their deceased friend's life thousands of miles from his home and family.
About the Author
Margaret Shaw Johnson is a graduate of the University of Minnesota's School of Journalism and William Mitchell College of Law and eventually became a District Court Judge. She retired from a 20 year career on Minnesota's Third District Court in 2008.
Since her retirement, she has been steadfastly pursuing her passion for writing. She is a seasoned playwright who has written and produced several works for the stage, mainly musical history plays. She has also written a book. Ravens Point Press of Minnesota released The Haunting Of Potter's Field in August 2021, just in time to get into stores for Halloween.
In addition to her work as a writer, Judge Johnson has also worked with and served on many philanthropic, municipal, historical and arts related Boards of Directors, and is very involved in historic preservation projects. She was born and raised in Winona, Minnesota, a small town in the southeastern part of the state, and still calls the city home.
About the Illustrator
Illustrator Jared Tuttle, a graduate of the Minneapolis College of Art and design, is a freelance artist, illustrator, and designer based in Minneapolis, Minnesota. He has received numerous awards for his work, including from the NY Society of Illustrators. His many corporate clients have included Disney, Burton Snowboards, Old Spice, and Harley-Davidson. He specializes in Illustration, Branding and Logo Design, Lettering, Packaging, and Murals.
Reviews
American history readers will relish The Haunting Of Potter's Field, Stories From The Past Unearthed From The Grave, a gathering of life inspections of immigrants and pioneers buried in Woodlawn Cemetery's potter's field in Winona, Minnesota…Biographical sketches take the form of poetic examinations of such characters as 1893 figure Mister Foster, who 'sold wares in the markets and fairs' and ended his life, 'His pain and his sins unconfessed.'…As each vignette outlines how a person came to end up in the potter's field, readers receive a literary examination that encourages a translation to stage. The unusual blend of historical examination, biographical sketches, haunting visual embellishments by Tuttle, and a spirit-laced reflection of ordinary people who have passed makes for evocative reading.
— D. Donovan, Senior Reviewer, Midwest Book Review
All across the Midwest, our communities celebrate the achievements of historical, prominent businessmen…those who founded railroads, built our industries and created our towns. These people represent the heights of American achievement and ambition. But there is another side to the story of building our country. It is the story of those multitudes of ordinary, worthy people who worked hard, made significant contributions to their communities, and did their very best but who were not destined to achieve the American Dream. The obstacles they faced were simply too overwhelming to be overcome. And some of those people ended up buried as paupers in potter's fields, across the heartland. Their stories have been forgotten…. until now. In the lyrical and beautifully illustrated The Haunting Of Potter's Field, Stories From The Past Unearthed From The Grave, author, playwright and judge Margaret Shaw Johnson brings to light the mostly true stories of some of those unfortunates buried in potter's field in one Minnesota town. Compelling, heroic and sometimes tragic, the accounts are representative of stories which might be found in hundreds of communities. They help to tell the other side of the story, one which is critical to the understanding of what it took to build this great nation and the price that some paid.
— Jennifer Weaver, Museum Educator, Winona County Historical Society, Winona, Minnesota
Margaret Shaw Johnson is a forensic poet, and in The Haunting Of Potter's Field has enriched the penniless, given voice to the long ago silenced, and brought those almost anonymous into the creative limelight. The Midwest and Minnesota now have their own Spoon River Anthology, and these colorful and disparate lives, conjured with wit, love-songs, and laments, are now properly memorialized, to be remembered and cherished. You will forever wander past a Potters' Field and want to enter and explore, especially yours close to home.
— Lee Gundersheimer, Arts and Culture Coordinator for the City of Winona